Manufacturers of Protective Aircraft Covers, Marine Covers, and Windsocks
AERO COVERS manufactures top quality aircraft covers, including wing covers, canopy covers and cowl covers. As well, we fabricate custom marine canvas and upholstery. We also offer a popular line of windsocks and frames. Our mission is to provide a combination of the best possible products and "Old Fashioned Good Service".
AERO COVERS is a second and third generation family owned company located on the outskirts of the City of Orillia in Central Ontario's Cottage Country. We've been operating since 1994, so we know the cover business "Inside Out". The many product improvements and refinements we've developed over the years are a direct result of listening to what our customers tell us.
Our products are sold to aircraft owners in Canada, the U.S.A., and many other countries around the world.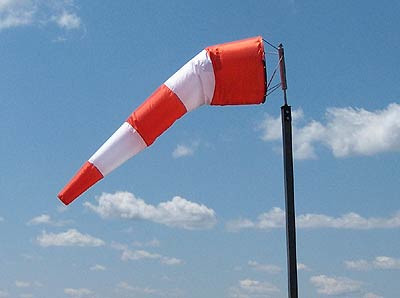 We can supply wing covers, canopy covers, and engine covers for a wide range of commercial and private aircraft as well as engine intake plugs, wheel covers, pitot tube covers, tail cone covers, and many other unique and helpful accessories.
No matter what your windsock requirements, we will custom-manufacture any size and color combination to meet your particular needs, whether it be the standard five band orange/white for aviation, or a solid color (red, orange, white, yellow, green, blue, or even purple for that matter) for promotional purposes or a private airfield. Windsocks have also become popular in industry as indicators of wind speed and direction in case of hazardous chemical leaks or spills.
Our windsock frames are all stainless steel and instead of bearings we use nylon bushings, so they can be expected to give many years of trouble free, maintenance free performance.
We custom manufacture boat tops and covers, bimini tops, interior upholstery repairs, and a variety of marine accessories.